Small Stuff
I cleaned up the network page a little bit and removed some projects.
Momo Fanlisting (Angel Arrow): I didn't have this completed in time last year when I applied for it. So I ultimately removed it. I will likely create some sort of tribute to her in the future however.
Character Profiles (Radiant Cosmos): I will probably create a character profile page in the future just for art commissions. However, I want to keep more of my art, story details, and work under wraps. A good deal of this information will be going into artbooks and a publication that will go exclusively to patreon supports of my comic. So I shouldn't include those online for anyone to see. I ultimately removed it from my list.
Posted on: July 5th, 2018
Still Alive
So I'm trying to get back into the swing of things here. I have a lot of projects and I'd really like to revamp my old shrines. I've been doing some work behind the scenes with rewriting content, but that's not made it's way online yet.
I recently quit the job I was working. It was a salaried position with insane hours. Things went to hell after September of last year, hence my extended absence. I hope to get some work done on sites here soon. I'd love to get Afterglow online soon as well!
Posted on: July 4th, 2018
New Domain Layout
I just added a new layout for the domain that is a little better organized! Nothing too special, but I'm glad to have a little less clutter and more room to display future projects for the time being!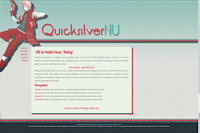 Posted on: September 19th, 2017
New Approved Fanlistings
Back from the last convention of the year! I was approved for some new fanlistings while I was gone, so here's what I'll be working on in the upcoming weeks!
Angelic Pretty (fashion and beauty > brands)
Alpacas (Animals > Herbivores)
Princess Allura of Voltron Legendary Defender (Animation > Characters -- may eventually be a shrine/tribute once I clean up my existing shrines)
Waiting on approval from one other, but games is sometimes a little slow!
Considering turning Mintiness.org into a fanlisting collective, but will house non-character related fanlistings there and keep character related on this domain. Makes sense I think?
Posted on: September 11th, 2017
Hepatica
Welcome to Hepatica! I've decided to add a log for my networks! I've begun working on Mintiness.org, which will be a network dedicated to general and cute topics and fanlistings that are not video game or character related.
A new layout is coming soon to Quicksilver. The page is too cluttered and I'm desiring something a little more organized as I add more content to the site.
Posted on: September 7th, 2017