Angelic Pretty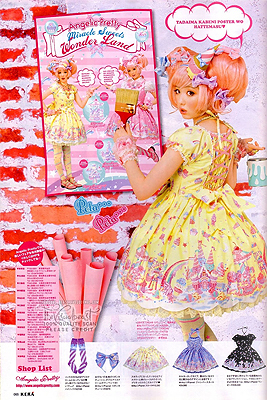 Angelic Pretty is a lolita fashion brand originating in Japan. To date, is one of the most popular and beloved brand in the fashion. Japanese Fashion enthusiasts from around the world both collect and wear items from this brand. Angelic Pretty, aka AP is mostly known as a sweet lolita brand with more cutesy motifs, cuts, colors and designs.
Brand Concept
"Angelic Pretty provides adorable clothing covered in lace, frills and ribbon; like a fairytale princess you dreamed about as a little girl. We want girls to never lose sight of that dream..."
About the Brand
AP had humble beginnings in 1979, known then as Pretty. In 2001 the brand took on its' current name. Today, Angelic Pretty has shops all over the world Angelic Pretty's primary online webshop will only ship within Japan. However, international customers can using Tenso as a forwarding service such as Tenso (recommended). Many lolitas will also purchase items second hand through webshops such as Closet Child, Wunderwelt, just to name a few. Don't forget about second hand sites such as the popular Lacemarket! If you've missed a release, chances are, you might possibly find it on the second-hand market!
Angelic Pretty offers main pieces such as dresses (jumperskirts, one-pieces), skirts, and salopettes. Usually every release includes matching head and legwear. Many print series will also include matching jewerly to complete the set. Don't forget the matching bag! You too can be an Angelic Pretty clone! AP also offers shoes, various other accessories, outterwear, innerwear (bloomers and petticoats) and many non-wearable novelty items.
Angelic Pretty's Official Website & Webshop
My Love for AP

When I first began wearing the fashion in 2012, I was immediately drawn to AP. While I tried out other brands such as Metamorphose, Innocent World and Baby The Stars Shine Bright, AP has always been a favorite. Most of my lolita wardrobe is from AP. I like to collect items to complete sets, such as jewelry, socks, and the matching bag if I like it enough. I don't see myself giving up AP anytime soon. My favorite releases by Angelic Pretty include Honey Cake, Chess Chocolate, Day Dream Carnival. I mostly collect prints with cats, berries, ponies, celestial motifs, chocolate, and anything mermaid/shell related.