Profile of cyborg;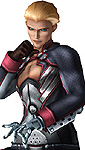 Real Name: Jan Sauer
Model Name: Ziggurat 8
Nickname: Ziggy
DOB: T.C. 4637
Age: 98 (since life recycling) 128 (whole life)
Height: 191 cm (6'3")
Weight: 162 kg (357lbs)
Eyes: blue
Hair: blonde
Episode I Profile
A combat cyborg assigned the task of recovering and protecting MOMO, the prototype 100-Series Observational Realian. Instead of embracing the fact that he was once human, Ziggy is constantly tuning his body, eliminating his organic parts in order to erase his own existence and reduce himself from a "person" to a mere "object."
Episode I Database
A combat cyborg assigned to the task of recovering and protecting MOMO, the 100 series observational Realian.
Upon his death in T.C. 4667 at the age of 30, his body was donated to science, and 2 years later he was reborn as a combat cyborg.
The last rank he held was captain of the 1875th special Operations Command detachment of the Federal police Bureau.
He is currently appropriated to the S.O.C.E according to federation law, upon death an individuals body is designated as "public property", thus they are no longer able to control their own fates. Perhaps this is why Ziggy considers himself simply equipment owned by the S.O.C.E
His thinking is in direct contrast to MOMO, who longs to be human, Ziggy constantly strives to turn himself completely into a machine through tune-ups that eliminate his human parts, piece by piece
His looks belie his extremely old age, and his advice gained from years of experience is both practical and precise
Episode III Database
Note that this is the full entry on Ziggy from the database, upon completing the game
After his death in the line of duty in T.C. 4667 at the age of 30, his remains were donated for body augmentation. He resumed his past two years later as a battle cyborg. His current posting is Contact Subcommittee member Juli Mizrahi. His name in life was Jan Sauer.
The final rank he held in life was detachment captain for the 1875th Special Ops Command. He later worked on tracking the Voyager incident with Melisse Ortus, founder of Scientia, and Lactis, a Canaan-type Realian in the special investigation unit.
During his time in the detachment unit, his and Voyager's relationship was that of superior and subordinate. Voyager sense the loneliness in Ziggy's heart and invited him to join the Testaments, but Ziggy decisively rejected Voyager's temptations by shooting himself in the head.
It is possible that Ziggy's heart knew peace for the first time after Voyager was sent away after the destruction of Michtam. No one knows how much longer his brain will survive. However, for as long as he ca, he'll do what he was unable to do before-dedicate his life to protecting those he cares about. Such was his promise to his departed friends.
Jan Sauer
Ziggy's name in life. Stationed in the Federation Police 1875th Special Ops Command. He departed for planet Abraxas as captain of the detachment responsible for the suppression of UMN terrorist Voyager on orders for his arrest.
In T.C. 4667, he died in the line of duty while pursuing Voyager. According to reports, he shot himself in the head as the result of psychological instability brought on by the pressures of the long-term investigation.
A registered organ donor, his remains were ultimately collected by Ziggurat Industries.